IMAGE GUIDELINES
PLAIN BACKGROUND, HEAD AND SHOULDERS, NO MAKE UP, NOTHING ELSE IN PHOTO, IN FOCUS!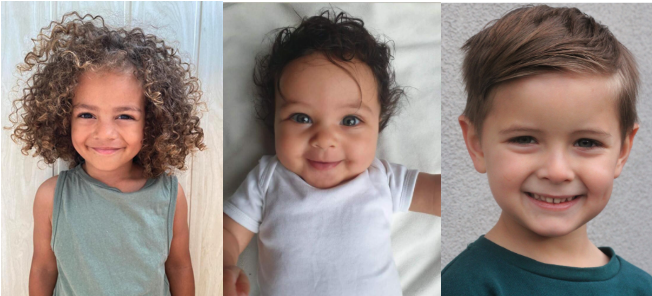 The above photos are a fantastic example of the standard of photos we require, taken at home.
Where to take the photo:
Please use a plain wall/background with plenty of light.
 DO NOT photograph you child standing in front of a window,  this affects the exposure and they will appear too dark. The child needs to be looking towards the window or another light source
 DO NOT photograph your child on park apparatus.
DO NOT take photos in bright sunshine that causes them to squint. Overcast days are ideal as there will not be harsh shadows on the face.
How to pose:
DO NOT put your child in awkward poses.
NO pouting faces, keep hands away from face.
Babies can be sitting up in front of a plain wall or laying on a plain blanket.
We are looking for 2 good head and shoulder photos and one mid or full length.
Quality, angle and crop:
The photo must be in focus, no fuzzy photos and in GOOD LIGHT
Also absolutely NO FILTERS.
Camera angle must be at eye level, hold camera in upright angle.
Only get your child in the photo, we do not need to see all the surroundings.
What to wear:
NO fancy dress, bows, sunglasses or toys in the photo, this distracts from the child.
Ensure child is wearing plain clothing
Plain unbranded t shirts are ideal
No party dresses, no blazers shirts and ties.
Hair & Makeup:
Please keep girls hair down so casting directors can see the length and colour.
Strictly NO MAKEUP or large hair accessories.
Teenagers can wear a minimal amount that is hardly visible.
Children that look older than their age are at a disadvantage for casting directors.
UPDATE RULES – for children on our books:
Once your child is accepted onto our books it is very important to update photos and measurements (height in cm and shoe size) regularly.
The easiest way to comply with our update requirements is to join our premium login membership for only £29.99 per year per family.
This enables you to login to see your child's profile and keep information updated at your convenience. To join premium please follow the link:  https://secure.lacara.co.uk/premium.php
Children that have not been updated according the the below rules will not be submitted for briefs AND POSSIBLY EVEN REMOVAL FROM THE BOOKS. 

Teens- Must update measurements every 6 months and photos yearly.
If you notice a drastic change in look or height then update accordingly too!
Always add new photos as teeth change so casting directors can see exactly how they are.
PLEASE NOTE THAT EVEN IF YOUR CHILDS HEIGHT HAS NOT CHANGED PLEASE LOGIN TO YOUR PREMIUM ACCOUNT AND MOVE THE HEIGHT UP ONE CM, SAVE IT THEN MOVE IT BACK DOWN AGAIN AND RE -SAVE SO WE KNOW IT HAS BEEN CHECKED!
Where to send updates
Please use your premium login to update photos and measurements. If you are not premium then please email: info@lacara.co.uk and ensure you give us child's name! Updates that are emailed are not dealt with instantly. They can take up to 2 weeks to be logged onto profile.
For extra help on taking photos on your phone, you can also read this helpful blog for tips and advise  Photo Tips
LOOK AT HOW FAB THE MODEL CARD LOOKS AFTER PROFESSIONAL PHOTOS TAKEN AT OUR ESSEX STUDIO!
Professional photos are advisable. Casting directors view lots of model cards and if you want your child to stand out then a portfolio is worth the investment. We have a studio in Essex and portfolios are exceptionally great value! http://www.lacara.co.uk/become-a-model/child-model-portfolios/